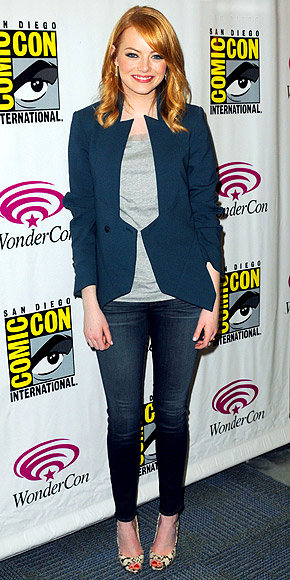 And here was my take on the Emma's look:
What I'm Wearing:
Cardigan: Alfani (TJ Max) | Shirt: No tag (hand-me-down from sister) | Jeans: House of Derreon (Macy's) | Belt: Thrifted | Shoes: Thrifted | Earrings: Eiffel Towers from TLC Creations
Alas, I do not have a totally rockin' blazer like Miss Stone wore in this picture, but I do have a cardigan very close to the same color to pair with a gray top. Also alas, I was forced to take pictures inside today due to the neighbors' kids climbing all over our shared backyard, so I had a heck-of-a-time getting the colors to come out right. Indoor pictures = stressed out Megan! Maybe that's why my expression is so odd in all of these photos...
Well, that and because I'm pretty exhausted. Today was my 2nd official day of clinics, and it is really wearing me out! I'm on call all night until 8am tomorrow morning for equine emergencies, and I'm praying I don't get called in. Emergencies do tend to be interesting cases, but I would love an evening of rest. Hopefully I'll build up some stamina the further into clinics I get, or else this is going to be a really long year!
At least it's not raining...I LOVE working outside when the weather is gorgeous like this! Sure beats seating inside a lecture hall for hours on end!
Now I'm off to the store to purchase a new thermometer, because mine broke today after using it on the first 5 horses. Oops! ;)
Linking up to: