It's that time again...
Inspiration Monday at Two Birds
! This week's photo features Louise Roe in a sweater and pencil skirt combo. I admit, I actually googled Louise Roe because I wasn't sure who she was. Fashion journalist, model, television host...this lovely lady wears many hats! Anyway, here's the pic: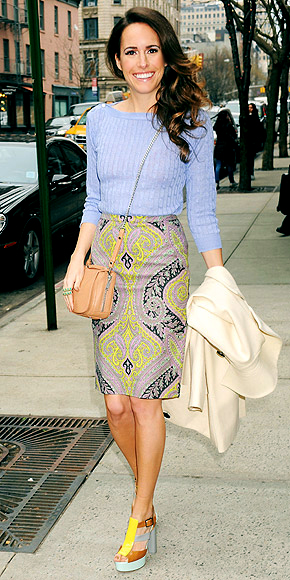 And here is my take on Louise's look:
What I'm Wearing:
Shirt: Charlotte Russe (thrifted) | Belt: Francesca's Collections | Skirt: American Eagle (thrifted) | Shoes: Nine West (thrifted) | Purse: Jule
| Sunglasses: Gucci knock-offs (from my trip to Kuala Lumpur, Malaysia)
The temperature climbed back up into the 70's, so it was WAY too warm to wear a long-sleeved sweater like Louise. I was actually quite happy with the way these items pulled together - I've had this skirt for a really long time and never worn it, primarily because I've never been happy with any shirt I tried pairing it with. Yay for Inspiration Monday victories!
Can you believe it's April already? March usually crawls by, but this year it seemed to pass SO quickly! A new month means a new VETERINARY CAUSE OF THE MONTH. April is...drumroll please...
National Heartworm Awareness Month!
Heartworm is a potentially devastating parasitic disease transmitted by mosquitoes to both dogs AND cats. The good news is that this disease can easily be prevented by administering once-monthly year round medication to your dog or cat.
Every state in the USA has heartworms, so no cat or dog is safe from this parasite without heartworm medication:
Heartworm PREVENTION is extremely important because this disease is often fatal, even with treatment! For years folks thought that only dogs get heartworm, but we now know that this isn't true. While rare, there have been many cases of cats contracting heartworm disease. Now there are medications for cats, too (such as Revolution) to prevent this from occurring.
Many veterinary clinics run specials this month to encourage you to bring your dog or cat in for testing. Many dogs and cats who get heartworm do not show clinical signs until it is too late, so yearly screening is really important! Call your veterinarian today to make your appointment for a screening test, and be sure to ask for more information to make sure your pet is protected. Your pets will thank you for it!


If you have a cat or dog, please take a moment to watch this short 2 minute video about heartworms:
Learn more:
Click here
to learn about heartworms in cats.
Linking up to: